This poem is dedicated to the noble struggle of women empowerment and equality! For English translation and Roman script, please keep on scrolling down. Thanks!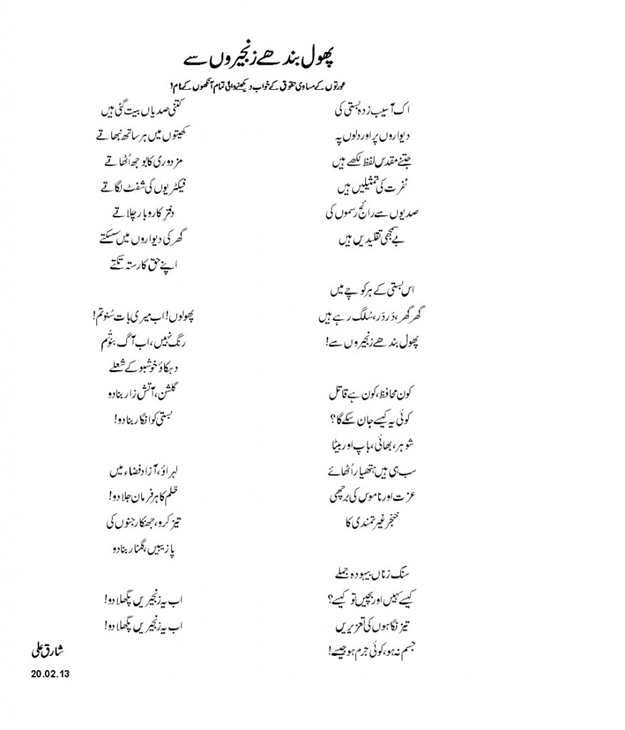 Flowers in shackle!
This town is haunted and people spellbound
There are sacred inscriptions on the walls of town
And same is written in the hearts of people
These inscriptions are nothing but the allegory of hate!
Like zombies, they follow only rituals, not reason
All streets in town every home,
Every door have flowers in shackle!
Are they guard or assassin? They look agnate?
Be a son, or brother be a father,
Or husband so girded,
Everyone with a sword of honor with a dagger of pride!
Is body of a woman a crime or a breach? Then why infliction?
By passer by in streets, these men,
Cruel men their looks so gross, their talk so crude!
Centuries have passed while sharing all burden
And working by side with men in fields,
In factories, in business.
Myriad of captives in jails of home just waiting to be free
A freedom long due! Enough is enough!
Now! Listen my flowers bring anger,
Bring fury this is time to ignite!
Be a fire not color be a flame not scent put garden into fire
Conflagration of town burn sacred inscriptions that curbs your freedom!
This is time for a dance with the breeze of freedom
On a pace so fast and the whirling,
So fast that the clack of shackles in legs, in arms are loud,
So loud till the metal is red your shackle red hot let it melt away!
Let it melt away!
Phool Bundhay Zanjeeron Say!
(Orton kay musawi huqooq ka khwab daikhnay wali tumam aankhon kay naam!)
Ik asaib zada busti main
deewaron per or dillon pay
jitnay muqadas lufz likhay hain
nufrat ki tamseelain hain
sudion say raij zulmet ki
bay sumjhi taqleedain hain
Iss busti kay her koochay main
Ghur ghur, dur dur sulug rahay hain
phool bundhay zanjeeron say!
kon muhafiz, kon hay qatil
koi ye kaisay jaan sukay ga?
shohar, bhai, baap or baita
sub hee hain huthyar uthay
izzat or namoos ki burchi
khunjer ghairatmundi ka
sungzanan bayhooda jumlay
kaisay sahain or buchain tau kaisay
tez nigahon ki tazeerain
jism na ho koi jurm ho jaisay
kitni sudian beet gaee hain
khaiton main her saath nibhatay
muzdoori ka bojh uthatay
factorion ki shift lugatay
dufter-e- kar o bar chllatay
ghur ki deewaron main sisuktay
apnay huq ka rusta taktay
phollon! ab miri baat suno tum rung nahi ab aag bano tum! dehkao khushboo kay sholay
gulshan aatish zaar buna do busti ko angaar buna do
lehrao azad fiza main
zulm ka her furman jala do
tez karo jhunkar junnon ki
pazaibain gulnar buna do
ab ye zanjeerain pighla do!
ab ye zanjeerain pighla do!
v