For reading the English translation and for Hindi Roman script, please keep on scrolling down and to the next page to read the full poem. Please do leave your comments, if you wish, and oblige. Thank you!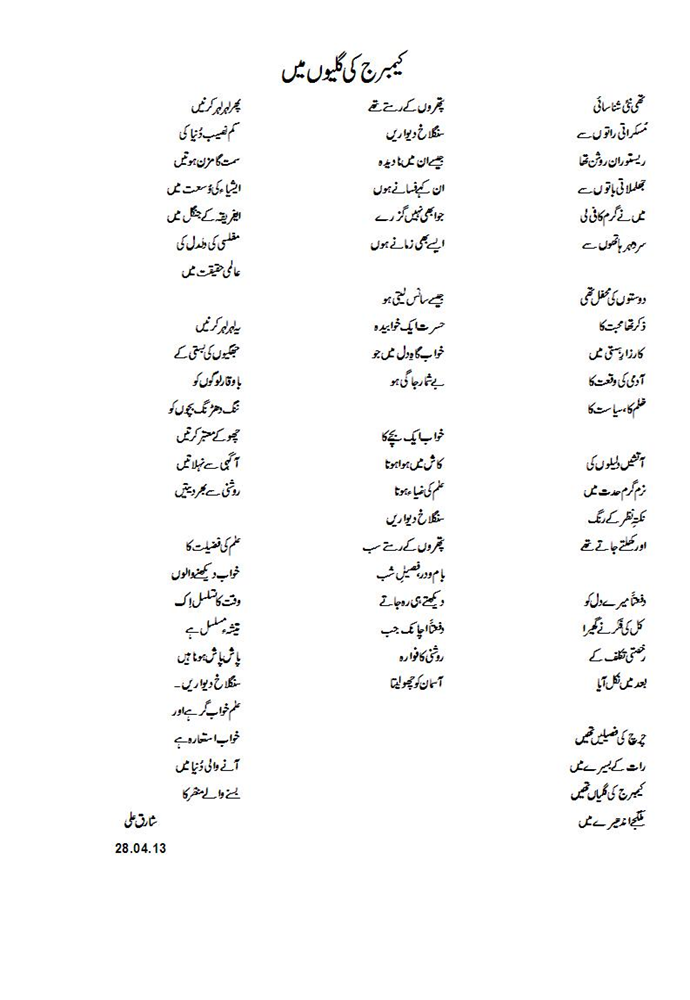 A novice in the campus
my affair was tender
with blissful night outs
cafe was bright
with a chat so glittering
I took hot coffee
in the hands so chilled
and joined conversation
on a table of friends
the topic was love
its value, its worth
in a world so dicey
why justice so lonely?
why life so cruel?
colour of viewpoints
were bright and different
near fireplace of squabble
Then all of a sudden
the thought of tomorrow
took over my mind
I said cheerio
in a bit or two
I found myself
on the streets of Cambridge
the church was dopey
streets were dim
The path was stony
so cold and callous
bricks and mortar
on walls each side
so bashful, mysterious
as if they hide
the ages, gone by
the era, still coming
as if they breathe
with the secret they keep
the secret of a dream
so sleepless in heart
The dream of a boy
to be breeze, to be beam
and stun one day
cruel path, stony walls
and darkness of night
with a thunder and bang
like a fountain of light
go up and high
and touch the sky
Then breeze and the beams
start travelling, spread out
in the jungle of Africa
in the slums of Asia
over world bereft
calamitous with ignorance
and touch the people
and touch the children
to shine them with knowledge
to fill them with wisdom
and give them their pride
their vanity, their worth
My friends! lets dream
for ascendancy of knowledge
be strong to know
flowing time is a hammer
one day these walls
curbing knowledge for few
will be shattered, will be smashed
and knowledge will be free
Wisdom in its essence
is a cradle of dream
and the dream of future
is knowledge for all
is freedom for all.
Cambridge ki gulyon main
Thee nai shanasai
muskurati raton say
Restoran roshan tha
jhilmilati baton say
main nay gurm coffee li
surd mohr hathon say
Doston ki mehfil thee
zikr tha mohabat ka
karzar e husti main
aadmi ki wuqat ka
zulm ka , siyasat ka
Aatasheen daleelon ki
nurm gurm hiddat main
nukta e nazar kay rung
or khiltay jaatay thay
Dufatun miray dil ko
kul ki fikr nay ghaira
rukhsati takaluf kay
baad main nikal aaya
Church ki faseelain theen
raat kay basaray main
Cambridge ki gulyan theen
mulgajay andharay main
Patharon kay rustay thay
sunglakh deewarain
jaisay in main nadeeda
unkahay fasanay hon
jo abhi nahin guzray
aisay bhi zamanay hon
Jaisay saanse laiti ho
husrat aik khwabeeda
khwabgah e dil main jo
bayshumar jagi ho
Khwab aik bachay ka
kash main huwa hota
ilm ki zia hota
sunglakh deewarain
patharon kay rustay sub
bam o dur, faseel e shub
daikhtay hee reh jatay
dufatun achanuk jub
roshni ka fawara
aasman ko choo laita
Phir leher leher kirnain
kum naseeb dunya ki
simt gamzun hoteen
ashia ki wusat main
africa kay jungle main
muflisi ki duldul ki
aalmi haqeeqat main
Ye leher leher kirnain
jhugion ki busti kay
bawaqar logon ko
nung dhadrang bachon ko
choo kay moataber karteen
aagahi say nehlateen
roshni say bhur daiteen
Ilm ki fazeelat ka
khwab daikhnay walon
waqt ka tasalsul ik
taisha e musalsal hay
pash pash hona hain
sunglakh deewarain
ilm khwab gur hay or
khwab istaara hay
anewali dunya main
busnay walay munzer ka